Night off - Untitled Eats is closed tonight.
Just to let everyone know tonight we will be taking the night off for some spring cleaning and to get ready for the summer. Exciting plans to come stay tuned. Have a great day! Cheers
El Diablo
El Diablo is a classic tequila cocktail that was created by the famous tiki pioneer Victor Jules Bergeron, Jr. aka Trader Vic which first appeared on his 1947 cocktail menu. It is a mix of Tequila, Creme de Cassis, Fresh Lime topped with Ginger Beer.   Along with the El Diablo we are going to serve two variations and also 4 other great cocktails!  Enjoy the beautiful day see you tonight!  Here...
The Bee's Knees
Bee's knees is one of my favourite gin cocktails to serve people. Its simple and the lemon and honey is a great accompaniment to a dry juniper forward gin. It was around the 1930's when the Bee's Knees came about after bartenders began using honey as a sweetener instead of sugar. The honey add much more depth and flavour opposed to simple syrup. Tonight I will be serving the...
Untitled Eats Cocktails are back with Margarita's
I'm excited to be back home after a short trip down south and can't wait to get behind the bar at Untitled Eats tonight!!! We are going to be serving up some Margarita's to get me in the mood for my trip to Mexico! And because its beautiful outside, damn! I would love to see all my favourite faces that I missed the last couple weeks!! Have a great day, hope to see you tonight. ...
Jam Cocktails
Time to use the rest of the preserves we have been storing this winter. Since we live in canada where winter really drags on its difficult to find fresh local fruit year round. Using jam in cocktails is a great way to add those fresh fruit flavours from the summers past. It can also add texture to cocktails that may feel a little thin. Tonight we a couple different jam cocktail along with some...
History of Grog, One of the earliest known Rum...
August 21, 1740, Admiral Edward "Old Grogram" Vernon of the Royal Navy issued orders to his captains that sailors should add water to their allowance of rum. To compensate for the foul tasting water lime and sugar was recommended to be added to this mix. This concoction would be named Grog after the Admiral who sported a cloak made of grogram, a heavy water resistant material. It was...
Boulevardier
This obscure classic cocktail was my go to winter sipper. A winter Negroni of sorts with the substitution of bourbon for gin warms up the soul as you drink it and the bitterness from the Campari leaves you craving more. Lets all say goodbye to winter one last time with a boulevardier cocktail and look to the spring and summer months. cheers.  St. Pattys Cure: Irish Whiskey, Lemon, Ginger, Orange...
Who doesn't like whiskey sours?
I have never heard anyone say they don't like whiskey sours, I just can't imagine it happening. Creamy, Tart, Dry and Warming all come to my mind when thinking about whiskey sours, they are just so damn good. Anyways I'm getting too excited. For tonight we will be making a couple variations of the whiskey sour plus some other great cocktails. Feel free to join us for $9 cocktails...
Ramos Gin Fizz
In the early days of getting interested in cocktails, I stumbled upon the Ramos Gin Fizz a classic cocktail born out of New Orleans in 1888 by the hands of Henry C. Ramos. A delightful cocktail with Gin, Citrus Juice, Cream, Egg White and Soda that traditional required to be shaken for 12 minutes (usually passed down a line of shaker boys) . Sounds more like a dessert but it tastes like a...
The booze gods have answered... Dolin Vermouth
It been 2 years since I visited New York City and purchased my first bottle of Dolin Vermouth. All of the best Martini's Manhattan's and other vermouth forward cocktails I have ever made/drank have used this vermouth. This has been on my wish list of products for Bishops Cellar to bring in. Its finally here and I couldn't be happier. So obviously I am making vermouth cocktails...
Launch of Untitled Eats New Cocktail Menu
Hello everyone, tonight we are launching Untitled Eats new cocktail menu. This means you can come to Untitled any night of the week and get a great cocktail to go with their fantastic food! So come down and check it out we would love to hear what you think!! I have also added a bartenders choice to the menu tonight. This is for all you folk who can't decide what to drink. All you have to do...
Happy Birthday to the talented Ceilidh...
Wednesday cocktail night at Untitled is a great day to be born on!! right Ceilidh!! Come by tonight and buy the bday girl a drink or two. We are also celebrating the launch of Leblon Cacacha with some classic Caipirinha's. Just for those who are unfamiliar with Cacacha it is a Brazilian rum made from the juice of sugarcane. It would be considered a rum since its made from sugarcane but its...
Tonight's Cocktails
In honour of Bobby Burns day we will be serving a couple scotch cocktails to warm you up. Here is this weeks menu! See you soon! Southside: Gin, Mint, Lemon, Lime Hernandez: Tequila, Sweet Vermouth, Maraschino, Orange and Angostura Bitters Junior: Rye, Benedictine, Lime, Angostura Left Hand Cocktail: Bourbon, Sweet Vermouth, Campari, Chocolate Bitters 3 ways - Bobby Burns Classic -...
Agave Lovin'
Tequila is the fastest growing spirit category in north america. Quite simply it is a brandy made from agave plants, some are aged while others are not. If you are still drinking jose cuervo you are crazy! and no wonder you don't like tequila, its that bad. There are so many good tequilas out there, that have complex flavours that rival sipping rums and scotches. When looking for a nice...
More cocktails coming at ya!
The first full work week in the new year is always a tough one. Come down for a cocktail and a bite to eat to get your though to the weekend. Here are this weeks cocktails. $9 4-9pm Untitled Eats Nova Scotia Art Gallery, See you there.  Derby no. 2: Rye, Lemon, Curacao, Angostura Golden Cadillac: Galliano, Cacao, Orange, Cream Weeski Cocktail: Irish Whiskey, Lillet Blanc, Cointreau, Orange...
Happy New Year!
I wish everyone a prosperous 2013 filled with heart warming beverages. Cold January is here in full force so to warm everyone up we will be serving Irish Coffee's. These aren't your average specialty coffees you see on the back of desert menus. These coffees are something that satisfy the coldest of travellers and fight off the winter blues. On top of the hot drinks we have more...
Frozen Daiquiri
Tonight I will be testing out 3 different types of frozen daiquiri's for Made with Love Montreal event which I will be showcasing a cocktail for. They are all looking great so you might have to try all three. $9 cocktails from 4-9pm at Untitled Eats in the Nova Scotia Art Gallery. See you tonight! L.B.R. Cocktail: Gin, Lemon, Orange, Raspberry, Pineapple Syrup  Delmonico: Cognac, Sweet...
Happy Repeal Day!
On Dec. 5th 1933, America passed the  21st Amendment ending the outlaw of alcohol that took place during 1920 to 1933. Which is why we celebrate Dec 5th as Repeal Day. In honor of the end of Prohibition here are some famous cocktails of the era that would have been enjoyed on this glorious day 79 years ago.  If you would like to raise a glass to toast to the end of prohibition joins us at Untitled...
1 Sour 2 Sweet 3 Strong 4 Weak
Thats the secret to a Classic Planters Punch super easy, simple is the best. Tonight we will have a couple more cocktails using this ratio along with the best planters punch in the city!! $9 finely crafted cocktails that will warm you up (might even make some hot drinks if you ask nicely). We are getting started at 4pm hope to see you there!  Kingston Beach: Rum, Maraschino, Meyer Lemon...
Hot Drinks!!
                                          As the days get shorter and the nights get colder hot drinks have been on my mind. There is nothing better to get through those cold winter nights than a nice boozie warm beverage. Thats whats on the menu tonight at Untitled Eats from 4-9pm. Warm yourself up on your trip home after work with three warm cocktails. We will also be serving the classics and...
Fall Flavours
Warm Spices, Dark Spirits, Apples, Cinnamon and other fall flavours have inspired this weeks cocktail menu. Reacquaint yourself with cognac featured in the Sidecar and its two variations. Tonight from 4-9pm all cocktails are $9  Cider 75: Gin, Lemon, Apple Syrup, Sparkling Wine Chocolate Swizzle: Tequila, Cynar, Grapefruit, Toasted Orgeat, Chocolate Bitters Brainstorm: Irish Whiskey, Dry Vermouth,...
We are back!
After a little rest last week we are back with your top 5 favorite classic cocktails plus a couple new ones see you tonight!!! Ex-Pat: Bourbon, Mint, Lime, Angostura Duck Hunt: Duck Fat Infused Rum, Expresso Maple Syrup, Bitters Elderflower Spritz: Aperol, St. Germain, Sparkling Wine Honey I'm Home: Rosemary Infused Vodka, Lemon, Honey, Grapefruit Bitters Top 5 Classics Sazerac: Rye, Peychauds,...
the alchemist says...: Breaking the Ice →
alchemistsays: Ice…the fastest moving ingredient in any venue / establishment. One can never have too much. In saying that, it is the most overlooked and ubiquitous of ingredients to prepare and serve a great tasting drink. #fact Frederic Tudor is widely regarded for being the man responsible to pioneer…
Happy Halloween!!!
Untitled Eats will be close tonight for Halloween. If you are feeling cocktail deprived check out my top 5 favourite cocktails below. Next week we are making a top 5 list of favourite cocktails so if you have a favourite cocktail please send me a message and I will make sure we have it on the menu.  Here are my faves  1. Sazerac: 2oz American rye whiskey or Cognac, 1/2 tsp rich simple syrup (2:1),...
Cocktail Dinner Wednesday October 24th: DETAILS
$50 + HST and Gratuity will get you 4 full sized well balanced cocktails that compliment a 3 course meal. Contact: Jeffreyvanhorne@gmail.com or call Untitled Eats 902 424 8708 to make a reservation there are a limited number of seats for the dinner so don't miss out. 
Cocktail Dinner Wednesday October 24th
Last year on a trip out to Vancouver I had the pleasure of helping my friend put on a cocktail or spirited dinner. I have been dying to do this sort of thing Halifax because I want to show that cocktails have an important place in the dining experience. I realize this is short notice for most of you but this Wednesday we will be doing the first of hopefully many cocktail dinners. If you think this...
Cynar has Arrived!!
I have a nice surprise for those of you that enjoy bitter aperitifs. I was fortunate to receive a case of Cynar from Montreal this weekend. A couple bottles will be at Untitled Eats and Bicycle Thief. Cynar is an bittersweet Italian liqueur made from Artichokes and 12 other plants and herbs. It add wonderful flavours to spirit forward cocktails or it can be enjoyed neat either before or after...
Gimlets
Tonight we are making Gimlets, here is the rest of the menu to go with it. Boom.  Clara Bow: Bourbon, St. Germain, Grenadine, Lemon Tortuga: Dark Rum, Cinnamon, Citrus, Ginger Beer La Gringa: Tequila, Aperol, St. Germain, Lemon, Pernod Pineapple Express: Rum, Green Chartreaus, Pineapple, Lime, Angostura 3 Ways – Gimlet Classic –  Vodka Gimlet: Vodka, Homemade Lime Cordial, Lime Twist – Rum Gimlet:...
The REAL Singapore Sling Tonight at Untitled!
I feel bad for the Singapore Sling. Over time it has lost its way, now what you get if you ask for one is usually Gin, Orange Juice or Pineapple, Soda and Roses Grenadine or Cherry Brandy if your lucky. The Singapore Sling was thought to be created in the Raffles Hotel in Singapore between 1905 and 1915 it falls into a category of drinks called Slings. Typically a Sling is Spirit, Citrus, Sugar...
Tonights Cocktail's
I have some nice tipples for you tonight that will leave you smiling. Also one of the first cocktails that hooked me on finely crafted classic cocktails, the Aviation is making an appearance along with 2 twists on the Aviation. Hope to see you all tonight! I have more MWL tickets so if you want make it to Halifax's only cocktail event/competition stop by and pick on up.  Captins...
Champagne Cocktails!
Check out tonights cocktail menu. If you haven't picked up a ticket yet for Made With Love stop by and get one $40 (cash please). See you soon Cheers.  Eastern Promises: Rum, Vermouth, Mandarin, Lime, Sugar Enzoni: Gin, Campari, Lemon, Simple Rob Roy: Scotch, Sweet Vermouth, Orange Bitters Casino: Gin, Maraschino, Lemon, Orange Bitters 3 Ways – Champagne Cocktail Classic: Champagne Cocktail...
Old Fashioned Cocktail
The Old Fashioned Cocktail is undisputedly one of the greatest cocktails EVER, it has overcome the test of time dating back to the 1806. This fine evening we will be sharing 3 different versions of this classic cocktail.  An old fashioned cocktail does not have "rules"  the spirit, sugar, bitter and little water foundation is the simplest way to enjoy your favourite spirit from Tequila...
1 tag
MADE WITH LOVE HALIFAX
Made with Love is cocktail competition that travels cities across the country to help promote the love of great cocktails. This is its second year coming to Halifax, and it is going to be bigger and better. October 15th at the Halifax Club will be one of the biggest parties of the year,  sorry to all the people who have day jobs but Monday night is Halifax's service industry night to party. So if...
5 tags
Tonights Menu!
Its our first Wednesday night of cocktails at Untitled Eats. Here is the menu for your drinking pleasure. We are going to try and get some more pictures and videos very soon.  La Louisiane Cocktail: Rye, Sweet Vermouth, Benedictine, Absinthe, Peychauds Bitters Kentucky Flower: Bourbon, Aperol, Lillet, Lemon Fitzgerld: Gin, Lemon, Simple, Angostura Bitters  Cradle of Life: Spiced Rum, Lemon, Lime,...
Cocktail nights now on Wednesday
My dear friends we have changed our cocktail evenings to Wednesday night as the hours of the Art Gallery have changed. There will be no fancy drinks this evening, but we will be ready to go tomorrow night at 4 pm see you then. Sorry for the inconvenience.
Tuesday Cocktails with Jeff Van Horne // No.2 →
I had a pleasure to meet local blogger extraordinaire Katie Tower at Untitled Eats and her photos are incredible - had to share them with everyone! Thank you for sharing the next round is on me! If you have yet to visit Katie's Blog check it out! Cheers As promised, I made a trip to see Jeff at Untitled Eats at the AGNS for a drink (or two). I went for a Mojito originally (which he...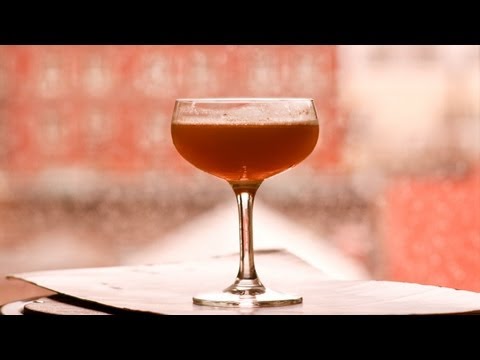 Cocktails 4-9pm
The Daiquiri is my favourite rum cocktail on paper it looks quite simple but can be the hardest to get right. The balance between sweet sour and strong has to be just right. Tonight we have 3 Daiquiris for your drinking pleasure. Stop in after work to escape reality with this great Caribbean Classic. Boulevardier: Bourbon, Campari, Sweet Vermouth Harvard Club: Rye, Sweet Vermouth, Pernod Between...
Untitled Eats
Everyone likes them most bartenders hate to make them, The Mojito. The most famous Cuban cocktail, it is most certainly a delightful drink.  Cuban White Rum, Fresh Lime, Sugar, Mint, Soda. This is not an easy drink to make well. It takes the perfect balance achieved by balancing sweet with fresh muddled lime and mint. For some reason this was one of the first cocktails I really started to...
Tuesday Night Cocktails!
Tonights cocktail menu for your drinking pleasure. Its going to be a beautiful day why not come by after a hard day of work for a well crafted and refreshing Sangria.  Greyhound 2.0 - Vodka, St Germain, Grapefruit, White Wine Ward Eight - Rye, Lemon, Orange, Grenadine Silver Fizz - Gin, Lemon, Egg White, Soda 20th Century - Gin, Lillet, Cacao, Lemon 3 Ways –  Sangria Classic - Sangria: Red Wine,...
Cocktail Dinner!
Everyone knows that food and wine go hand and hand and that if properly done wine can enhance and support the favors in a dish. Pairing cocktails with food can do the same and then some. The creative possiblities are endless and can add an interesting element to a dinner by choosing specific flavours to highlight.   This Wednesday August 15th will mark the first cocktail dinner at Untitled...
6 tags
Olympic Cocktail
I have spent the last week and a bit glued to the television watching the London Summer Olympics. As a tribute to the Games over in London this weeks menu will include cocktails originating from The Savoy Cocktail Book.   The American Bar in the famous Savoy Hotel in London opened its doors in the late 1800's and to this day remains an iconic bar. Harry Craddock was the head barman during...
Round 7 : Untitled Eats
We are approaching our 7th evening of cocktails at Untitled Eats. Below is the menu for this evening. It's full of some interesting bold flavors as well as the classic Vesper cocktail. The fun starts around 4 until 9pm drinks are $9 taxes included. August 15th we will be offerening a unique cocktail dinner which includes 5 courses paired with 5 different cocktails. Its a rare opportunity to...
Dark N Stormy Night at Untitled Eats!!!
A perfect match for the weather today, we are doing the Dark N Stormy plus 2 variations and other great cocktails tonight at untitled. Cocktails are $9 taxes in we are serving from 4-9PM. Here is the menu for this week, hope to see you there Bourbon Cocktail: Bourbon, Benedictine, Cointreau, Bitters White Lady: Gin, Cointreau, Lemon, Egg White Bitter Mai Tai: Rum, Campari, Orgeat, Curacao,...
This evenings cocktail menu!
Thanks to everyone that has been coming out, it keeps getting better and better each week. Here is tonights menu. I have two variations of the Whiskey Fix (pictured above) for you, which is made with crushed ice, whiskey, lemon juice and simple syrup. The perfect way to enjoy a good whiskey in the summer.  Blinker: Rye, Grapefruit, Raspberry Stay Up Late: Gin, Cognac, Lemon, Soda Hurricane: Rum,...
Hello Summer! Hello Mint Julep!
Summer is here and in a big way. With temperatures well in the 30's and Jazzfest, this weekend has seen everyone out and enjoying our beautiful city! As I take a day to re-charge my body after a busy couple nights of muddling, shaking and stirring. I wanted to share with you a simple cocktail that will cool you off on a hot summer day! Serving someone a classic cocktail is like stepping...
scoggenhaus asked: How does the Untitled evening work? Price per cocktail or for the evening and how much?